Our Oven Is Back
On April 4th, 2017 a package arrived for us. Curious as we are, opened up and delighted about our sparkling Taylors Heater, our ship's stove. John from Taylors Heaters and Cookers in Southhampton/England has done a great job.
His original idea to polish our old case nice and shiny again, he gave up because of hopelessness and mounted us a new casing. Not only this one was renewed, but also the combustion chamber, both back walls, the lid, the passage to the outlet, various screws, valves, pipes… everything except a horizontal plate under the sight glass. It was still good. Though visually slightly impaired, but not visible during operation.
After a lot of phone calls with John and some emails with Catherine the process was clear, the spare parts were discussed and paid, John didn't charge for some parts and I think he forgot a little bit of the calculation for the working time.
The comparison:
Before (in the background, no extra photo taken)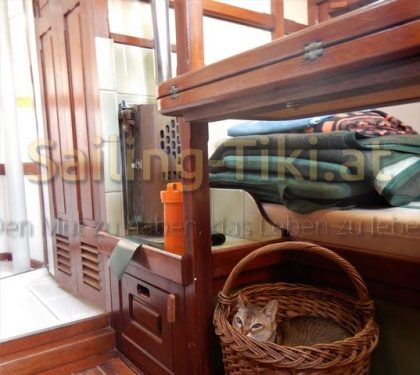 After (the Christmas tree at the Christkindlmarkt in Schoenbrunn/Vienna is nothing compaired with this shine…)
Captured by the stove door, which can now be opened and closed without any problems, is another manual which will help us with the installation.
The old pipe is removed quite quickly, only small drops of blood were spilled 😉 and a new pipe, with an interruption for a filter is also quickly laid. We let the tank disappear again in the storage in the bathroom, even if the filling is difficult there. We will wait and see how often we really need the stove and if a deck breakthrough is worthwhile.
After assembly
Of course, it has to be tested immediately. So, a little bit of alcohol for preheating down below, wait briefly until the thermosensor reacts, press the blue button and regulate the flow very quickly. Where in our old oven with the old, clogged valves a drop found its way every 8 seconds, a continuous stream runs here. Way too much! Turn it down quickly and set the drip rate to about 80-100 droppers per minute and – perfect!
On the picture you can see the last original part, the plate under the window.
It works! Perfectly clear! After half a minute of preparatory work, the oven heats up well and quietly. After a few hours you have to adjust the drip rate a little bit, but this is done quickly. Consumption is ridiculously low, thanks to the economical dropwise firing….
Disadvantages are of course also, Randy doesn't get under the blanket when I go to bed, but waits in front of the oven until I had a few minutes to warm up the bed. But when he comes, he is well warmed up and cuddles up to me.